The PERSONAL in Personal Chef applies to the CHEF as well as the client!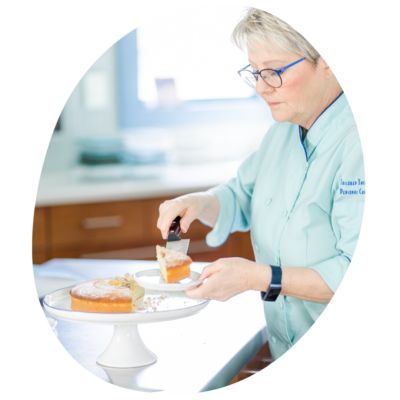 If you've landed here, I'll bet you have been thinking about launching a personal chef business or you've launched one but haven't gotten much traction yet. Maybe you started the business by reading a book and are now not sure what to do next. How do you find that first client? How do you turn this passion into a solid, money-making business?
Back in 2004 I too thought I should give this personal chef business a shot. With a milestone birthday clearly in sight, I decided I didn't want to go to my grave wondering if I could have made a go of doing what I loved – cooking. Could I truly start a business that allowed me to pick and choose exactly what I wanted to do for a living and when I wanted to do it? I had to find out.
So I quit a lucrative full-time event planning job, attended the Culinary Business Academy (no longer in existence), and set sail on this great journey of running my business my way. I made a LOT of mistakes along the way. I'm here to help you avoid the major pitfalls that challenge most new personal chefs.
I'll bet you are a fabulous cook – your friends and family turn to you for food and advice about food. But a successful food business is as much about the BUSINESS as it is the food.
Let's speed up the process from launch to steady income! I'll take you by the hand and walk you through the basics – help you learn the lingo so you can communicate clearly to your potential clients.
When you land that FIRST (of many) clients, I'll prepare you for that first cook day by taking you on a virtual walk-through from the beginning (which is LONG before the cook day) through clean-up and follow-up with tips to help increase your efficiency and bolster your confidence as you work.
You'll learn how to sustain long-term clients (the key to a successful business) and to be your clients' expert while making a solid income on your terms. I call this 'training your client.' There is an art to this part of the job and I'll share my secrets with you.
When I started Tailored Taste Personal Chef Service I had the school training, I had a buddy in another state and I had an antiquated Message Board for support. These were great for 2004 but today I provide a more robust support system for you as you start and build your personal chef business.
"Since taking your classes at conference I've shortened my cook day by an hour."  – Vicky O.
"How Can I Help?"
I'm now circling back to teaching YOU how to be a successful personal chef with a bucket of experience in how things should look, how things should run, how events should be organized and how to teach you what you need to know to get started TODAY. I will even help write copy for your website or edit what you currently have in place.
Start with my videos and join the New Chef Essentials club. If you want a more personalized, customized approach, sign up for one-on-one sessions with me via Skype or FaceTime. Whichever path you choose, let's get you started NOW. It's time to move from novice to expert!
There were many issues that I had starting my personal chef business and the biggest concern was with marketing, but after Chef Monica's personal chef coaching I now have the knowledge to inform the community about my services, and with her help, my personal chef business has started a month and a half earlier than planned. – Alan B.
"Why Chef Monica?"
"Why you, Chef Monica?" you ask? Well, my background before being a successful personal chef is varied – I prefer to call it eclectic. The circuitous route I took has brought me to the point where I can help others. Here's the long and short of it:
After college I taught elementary school/resource room for three years but found I couldn't support myself on the salary offered. I fell back on typing skills I'd learned at age 11 from a mother who didn't believe in 'idle summers' – I took all sorts of summer school classes including sewing 101 two years in a row! The typing job morphed into doing the graphics (by hand) for all the reports I typed.
Soon I was just creating the graphics and no longer typing. Then a co-worker led me to a job with another company running the admin staff and all the events of a British firm's US office. There I became the first female vice president in the company which led me to start my own event planning business.
A move to St. Louis led to becoming a catering and sales manager successfully selling $750,000 worth of business in a year. Then it was back to DC, working for someone else as an event planner and ultimately creating Tailored Taste.
Through Tailored Taste Coaching, launched in 2013, I've taught intensive ½-day classes at the US Personal Chef Association annual national conferences and offered one-on-one coaching services for new chefs. In 2016 my trio of training videos was completed and has become an integral piece of the Preparatory Members' training for the USPCA. These videos are also available to help jumpstart your personal chef business.
"Chef Monica helped me set my prices, create a good marketing plan and focus on my ideal client. Most importantly, she taught me not to undersell myself just because I am new to the scene. She also helped me with some issues I was having with some clients and told me how to fix them graciously while staying true to my ideals. I feel a lot more confident now and I am so happy that I picked the 8 coaching sessions as opposed to a single session. I have had other business coaches before for another business and I've never worked with one who is as sincerely devoted to your success as Chef Monica is. She is a coach who truly cares and will share her wisdom, wealth of knowledge and heart freely." – Eliette S.